Collaboration
Recycling
Technology & Innovation
Outreach
International
Story 6: Recycling Flexible Plastics Webinar Series
The European Union's project on Reducing Plastic Waste hosted a four-part webinar series in 2022-2023 to inform and inspire new thinking on achieving circularity for flexible plastics – led by innovative approaches identified in Europe.
Achieving circularity for plastics and meeting ambitious plastic waste reduction goals is a complex mission. Flexible plastic packaging is a challenging segment of the plastic stream that is deserving its own strategies and investments in order to make progress in recovering it. Learning about new approaches and policies, how innovative technologies are being developed and implemented in Europe, will foster solutions to tackle challenges in the path to circularity for flexible plastics and lead to innovative collaborations between Canada and Europe.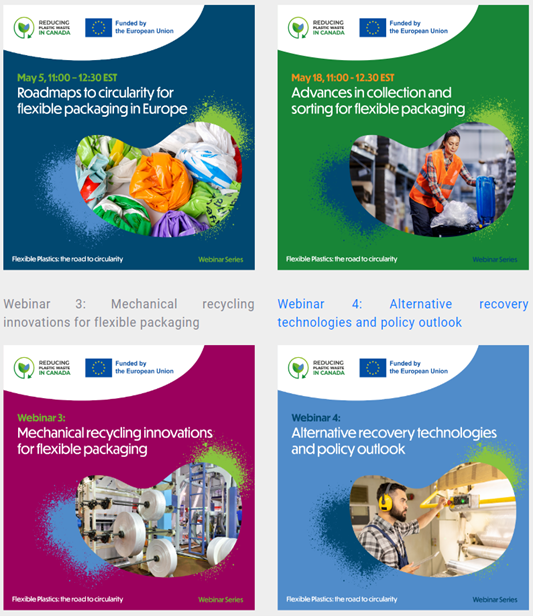 The series of four webinars explored the pathways to creating a circular economy for flexible plastic packaging. Each webinar focused on a distinct theme, and together they examined the complex ecosystem of plastics recovery with a focus on the emerging policies, strategies, processes and technologies to deal with the growing market segment of flexible packaging.
Each webinar offered an opportunity to learn from leading organizations and businesses, featuring European speakers who will share how they are reducing flexible plastic packaging waste and increasing its recovery through the use of new technologies and processes, and the implementation of plans that promote value chain collaboration to overcome challenges.
The webinar themes are as follows:
Over 250 participants had the opportunity to hear from experts and leading European organisations, including CEFLEX, UK WRAP, The Netherlands Institute for Sustainable Packaging, Ellen MacArthur Foundation, EXPRA, EPRO, Proctor & Gamble, PreZero, Taghleef Industries, Dow Europe, Plastics Energy, ISCC Systems GmbH, and Nova Institute.
To supplement these webinar briefs, the Reducing Plastic Waste in Canada project funded the development of a comprehensive technical report on recycling flexible plastics in Europe: "State of Recycling Technologies for Flexible Plastic Packaging in Europe". The Plastic Action Centre is pleased to host this report as a means of profiling European innovation in this area. This report can be downloaded from the link below.
URLs / References
State of Recycling Technologies for Flexible Plastic Packaging
Flexible Plastics Webinar Series Session Recordings, Slide Decks and Reports
Webinar 1 Fact Sheet – Flexible Plastics: Roadmaps to Circularity for Flexible Packaging in Europe
Webinar 2 Fact Sheet – Flexible Plastics: Advances in the Collection and Sorting Technologies for Flexible Packaging 
Webinar 3 Fact Sheet – Flexible Plastics: Mechanical Recycling Innovations for Flexible Packaging 
Webinar 4 Fact Sheet – Flexible Plastics: Alternative Recovery Technologies and Policy Outlook
The European Union (EU) project on Reducing Plastic Waste in Canada