Circular Economy
Reuse
International
Story 5: Deposit Return for Reusable Drink Cups in Germany: Scaling Small Business
RECUP is a German company operating a very successful deposit return cup reuse program with 13,000+ business partners across the country. This program was profiled as a leading reuse solution by the Ellen MacArthur Foundation in their analysis of over 100 Business-to-Consumer (B2C) initiatives that provide significant benefits to users and businesses, contain innovative elements, have reached significant scale, or both.
RECUP is a German company that offers a reuse scheme to cafés, coffee chains, and restaurants. Coffee drinkers pay a deposit when opting for the reusable cup and can return the empty cup to any RECUP partner in exchange for their deposit. The cup is a universal, no-branded design that enables cleaning logistics and optimises distribution among different cafés, restaurants, and coffee chains. The deposit-return system at any participating location allows for easy drop-off service with app showing all possible drop-off locations to retrieve the deposit paid. The scheme is low risk for retail partners as cups remain the property of RECUP and deposits are paid back to retail partners when cups are returned. The durable cups are designed to be used up to 1,000 times. To date, there are more than 11,800 partners in Germany, including cafés, restaurants, and coffee chains. 
RECUP partners pay a membership service fee to finance the operation of the deposit scheme and have access to a mobile app which allows them to locate participating partners with drop off locations. Partners pay a 1 EUR deposit per cup. By transferring the deposit to the consumer, businesses save money through replacing disposable cups with RECUPs. All RECUP partners are required to clean and reuse the cups returned to them.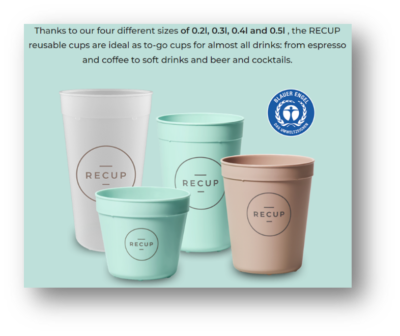 RECUP is currently expanding the system from local coffee chains by testing it with multi-national partners. This business idea was driven by recent changes to the new German Packaging Act, 2019 which will require restaurateurs to offer their customers a reusable alternative for to-go and take-away items in 2023. This will make retailers more responsible for promoting the use of eco-friendly and recyclable packaging.
This is an innovative reuse model that has successfully scaled across the country. This business model can unlock significant benefits, enabled by digital technologies and incorporates shifting user preferences. Such models can help deliver a superior user experience, customise products to individual needs, gather user insights, build customer loyalty, optimise operations, and save costs.
URLs
https://ellenmacarthurfoundation.org/reuse-rethinking-packaging
The European Union (EU) project on Reducing Plastic Waste in Canada