Circular Economy
Producer Responsibility
Technology & Innovation
International
Story 6: Bulk Dispensing of Cosmetic Products in France is a Unique B2C Business
With 335 points of sale across France, this B2C business is a leader in the reuse space. This program was profiled as a leading reuse solution by the Ellen MacArthur Foundation in their analysis of over 100 Business-to-Consumer (B2C) initiatives that provide significant benefits to users and businesses, contain innovative elements, have reached significant scale, or both.
CoZie has developed a bulk dispensing machine for cosmetic products such as moisturisers and face creams. CoZie's dispensing technology allows customers to fill cosmetic products to the ml desired, which provides flexibility and consumers enjoy having the choice of amount they can purchase, rather than pre-defined volumes.  The special design of the dispensing system stocks the cosmetic products in airless bags to maintain the product shelf life and prevents contact between the product and the machine. The dispensing system is designed to meet strict specifications for hygiene and traceability of cosmetic products. CoZie takes care of washing all containers centrally and redistributes to vendors.
For the first purchase, users pay 1.5 Euros as a deposit per container. The same amount is deducted from the user's next purchase when bringing back empty containers to a store selling CoZie cosmetics.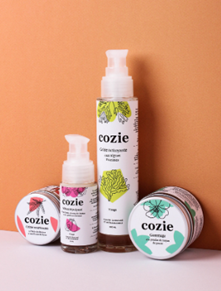 Customers receive discounts on refills of CoZie products when returning empty containers to the retail store since they have already paid the container deposit, which creates brand loyalty and keeps customers returning. The online dispensing system ensures traceability and enables automatically generated print-out labels with product name, date and batch number. All products come in high-quality, durable glass containers.
Until now, CoZie has only been using the technology for the company's own formulas, but external brands for shampoo and shower gel will be added this year.