Waste management and recycling regulations in Ontario generally relate to the two areas where wastes are generated, namely the residential and the Industrial, Commercial, and Institutional (IC&I) sectors.

Residential waste management and recycling services are mandated by the provincial government, but are carried out by local municipalities. Each municipality develops its own waste management program which could include: curbside collection, depot drop-off, pay-as-you-throw or any combination of these elements as long as the program is in compliance with the requirements of the Environmental Protection Act.
Members of the IC&I sector are individually responsible for complying with waste related regulations and their compliance is determined by their size. The recent introduction of stewardship and/or extended producer responsibility (EPR) regulations has extended the traditional responsibilities of many IC&I businesses. IC&I businesses that are producers of product and/or packaging are increasingly mandated to take physical and/or financial responsibility for the wastes that their products and/or packaging create.
Key laws in Ontario that affect waste and recycling activities:
1. Environmental Protection Act (EPA)
a. O. Reg. 101/07
b. O. Reg. 102/94
c. O. Reg. 103/94
d. O. Reg. 104
e. R.R.O. 1990, Regulation 347
2. The Waste-Free Ontario Act
3. The Environmental Assessment Act
4. The Planning Act
---
Diversion Rates (Tonnes) 2016
| | |
| --- | --- |
| All materials diverted | 3,309,711 |
| White goods | 11,739 |
| Electronics | 35,991 |
| Plastics | 120,335 |
| Tires | 162,437 |
| Construction, renovation and demolition | 165,116 |
| Other materials | 80,039 |
*All other materials than 'Plastics' may or may not have plastics in them.
---
Diversion Rate Trends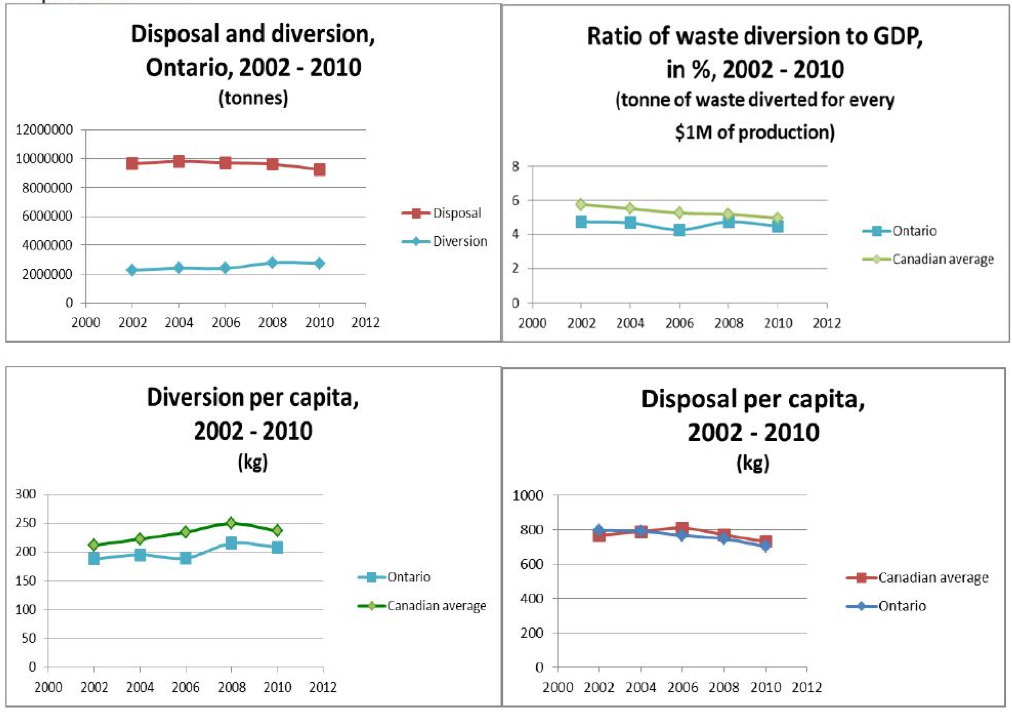 ---
Material Recovery Overview:
Ontario has three diversion programs to reuse, recycle or safely dispose of waste including plastics:
Blue Box Program – recycles printed paper and packaging (plastics, paper, glass, aluminum, steel).
Municipal Hazardous or Special Waste Program – recycles or properly disposes of paint, antifreeze, batteries, fertilizers and other hazardous or special materials.
Waste Electrical and Electronic Equipment Program – reuses or recycles electronic equipment like computers, televisions and stereos.
The province also has the Ontario Deposit Return Program for beverage and alcohol containers.
---
Disposal Options
Energy Recovery from Waste Approach

 

Energy from waste is considered waste disposal and is not counted towards diversion. Facilities approved on a case-by-case basis, however biogas, biomass, and landfill gas (LFG) are included in the Ontario Green Energy Act (Ministry of Energy).

Landfill Operations

Number of landfills operating: 880, with 28 LFG recovery. No province-wide landfill bans are currently in effect.