Circular Economy
Reuse
Policy
International
Story 2: The Benefits of the Four Reuse Models as Outlined by The Ellen MacArthur Foundation
As part of the Ellen MacArthur Foundation's (EMF) global initiative on the New Plastic Economy, they have been working on initiatives focussed on the first principle of the circular economy, which is to eliminate waste. The idea of "Reuse" as a key element driving a more circular economy was the focus of a detailed analysis of Reuse models across the world, Reuse – Rethinking Packaging.
Although the analysis of reuse models is focussed on packaging case studies, the benefits outlined are applicable to products as well. Reuse presents an innovation opportunity to change the way we think about products and packaging. This publication from EMF's New Plastics Economy team provides a framework to understand reuse models by identifying six major benefits of reuse. Based on an evaluation of more than 100 initiatives, the publication aims to inspire and help structure thinking.  Reuse – Rethinking Packaging provides a description of how different reuse models work as well as typical implementation challenges.
The six key benefits of reuse models are that they can:
Have economic benefits: by cutting costs from less need for new packaging, and transportation costs can be reduced by supplying refills for reusable containers in compact form, such as in concentrates or solids (e.g. as tablets or strips of soap requiring water added to activate)
Optimise operations: Economies of scale for distribution and logistics can be achieved through sharing reusable packaging across brands, sectors or wider networks.
Adapt to individual needs: Individual needs can be accommodated by reuse models that let users mix and match flavours, personalise packaging or choose desired quantities.
Build brand loyalty: Brand loyalty and customer retention can be achieved through deposit and reward schemes for reusable packaging.
Improve user experience: The user experience can be improved by enhancing the look, feel or functionality of reusable packaging (which can be more high-end as its initial production cost is divided over many uses).
Gather intelligence: Information on user preferences and system performance can be gathered by incorporating digital technologies such as RFID tags, sensors, and GPS tracking into the reusable packaging system.
The Ellen MacArthur Foundation has outlined six key benefits of reuse models: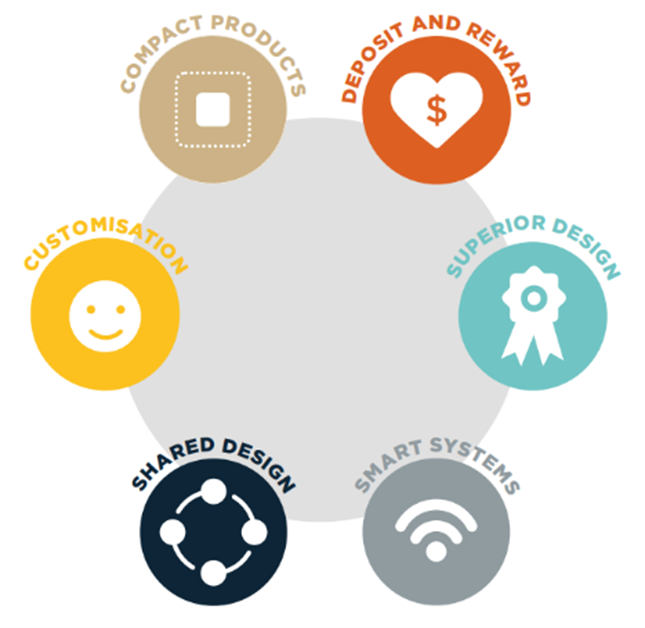 The Ellen MacArthur Foundation has identified four types of reuse models: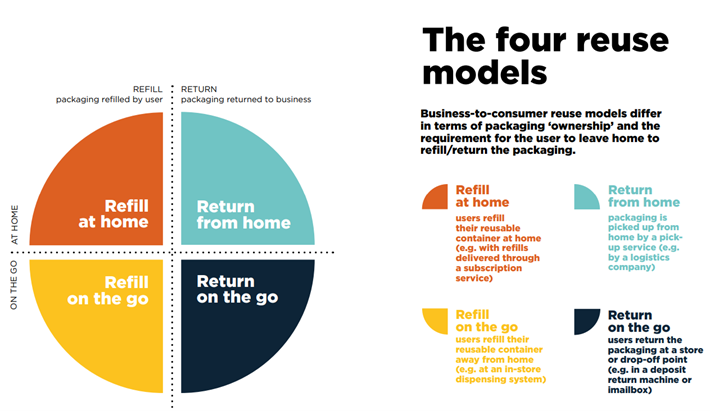 URLs