Take Action
Single-use Plastic
Ontario
Reducing Single-Use & Takeaway Items in City of Toronto
The City of Toronto is seeking feedback on proposed approaches and timelines to reduce specific single-use and takeaway items in Toronto. A single-use or takeaway item is any product designed for a single use after which it is disposed of in the garbage, Blue Bin (recycling) or Green Bin (organics). Typically, these products are not designed for durability or reuse. Examples include coffee cups and takeout containers.
This is Phase 2 of the consultation process. Phase 1 consultations took place in fall 2018.
Ways to Have Your Say
Public Event
Public event was held on Tuesday, September 24, 2019. See our summary of this event below. 
Online Survey
An online survey will be available from September 25 – November 4, 2019.
Telephone/Web Town Hall
Thursday, October 10 from 7 – 8:30 p.m. OR  Thursday, October 24 from 1 – 2:30 p.m.
Registration 
 is required
The same information will be presented on both dates.
Stakeholder Meetings
A series of stakeholder consultations will take place to engage with representatives from sectors including: hospitality, food, restaurants, retail, manufacturing, waste management, accessibility, the environment, and research. The City is also sharing information and inviting participation through an extensive stakeholder list that includes groups that involve youth, seniors and newcomers.
Stay Connected
To receive updates about Phase 2 consultations, subscribe  
 to the Long Term Waste Management Strategy email list.
---
About Phase 2 Consultations
Objectives
The objective of Phase 2 consultations is to gather feedback that will help the City create a Single-Use and Takeaway Item Reduction Strategy (Reduction Strategy). The primary goal of the Reduction Strategy will be to reduce the use and disposal of specific items, regardless of which waste stream (e.g. garbage, Blue Bin recycling, Green Bin organics) they are currently managed in and the material they are made of.
Items and Approaches for Reduction
Phase 2 consultations consider:
specific items targeted for reduction
proposed approaches and implementation timelines
potential exemptions.
The proposed items and approaches are based on input received during Phase 1 consultations, as well as other considerations including:
reflecting survey and polling data on preferred approaches and items to target
targeting items known to contribute to litter on streets and in waterways
achieving a measurable environmental impact
addressing materials which are not diverted (i.e. recycled or composted) or are not effectively diverted in Toronto's Blue Bin Recycling and Green Bin Organics Programs
aligning with policies and programs being developed nationally and locally.
The City of Toronto recognizes that some single-use and takeaway items support accessibility and that programs and policies must be inclusive. Impacts to accessibility are being considered in all consultation activities and examination of specific programs and policies.
Process
Following Phase 1 consultations, City staff began developing potential policies and programs to form a Single-Use and Takeaway Item Reduction Strategy for Toronto. Development of these policies and programs included:
analyzing all feedback received through Phase 1 consultations to identify public and stakeholder priorities for single-use and takeaway items and preferred approaches for reduction
conducting a jurisdictional scan
reviewing available data on single-use and takeaway items including environmental and financial impacts
considering operational challenges related to identified materials and items
retaining an independent external consultant to help inform proposed policies and programs
considering availability of alternatives to the items evaluated.
Following Phase 2 consultations, City staff will further refine any proposed initiatives and report to the Infrastructure and Environment Committee in 2020.
Learn more about how decisions and bylaws are made in Toronto.
---
Phase 1 Engagement & Results
More than 20,000 people participated in Phase 1 consultations through public events, stakeholder meetings, webinars, polling, an online survey and email comments.
The City hosted an in-person consultation in October 2018. The session included an Open House, presentation 
 and question period. A recording of the session 
 is available for viewing.
In Phase 1, participants were asked to consider a variety of single-use and takeaway items and mandatory and voluntary policy and program approaches, and were provided an opportunity to suggest additional items and approaches.
Results
The majority of participants expressed support 
 for the reduction of single-use and takeaway items, a desire for reusable items instead of disposable items, and support for the implementation of both mandatory and voluntary approaches to ensure reduction of these items in the City of Toronto.
Results of Phase 1 consultations are available in the Single-Use and Takeaway Items Public Consultation Report 
.
A summary of Phase 1 consultations is outlined in a report to the Infrastructure and Environment Committee on May 23, 2019.
---
Phase 2 Consultation Public Event Summary
On Sept. 24, 2019 a sold-out crowd attended Toronto City Hall to kick-off Phase 2 of the City's Single-Use & Takeaway Reduction Strategy. A brief summary of Phase 1 consultations were shared; which had over 20,000 respondents complete the online survey – making it one of the highest civic engagements to date for policy related initiatives in the City of Toronto. Overall, it was found that 75% of respondents showed consistent strong support for mandatory approaches to reduce plastic bags and take-out containers. All results can be found in the Phase 1 Final Report. 
Proposed items announced
The list of proposed items to be considered in the strategy was announced:  
Single-Use Eating Utensils
Single-Use Hot and Cold Drink Cups
Expanded Polystyrene (foam) Food Takeaway Containers and Cups
Single-Use Plastic and Paper Bags
Single-Use Straws
This list was developed through a combined approach of:
Phase 1 consultation feedback
Jurisdictional scan
Review available data of single-use and takeaway items
Considered operational challenges related to materials and items
Considered availability of alternatives to the items evaluated
Considerations based on economic, social and environmental factors
Proposed Bylaws to be Considered
By-Request/Ask First Bylaw: would require single-use eating utensils and straws be distributed to a customer only upon request
Fee Bylaw: would require businesses to charge customers a fee per single-use hot/cold drink cup and plastic/paper bag
Ban Bylaw: would ban businesses from distributing and using expanded polystyrene (foam) food takeaway containers and cups
Proposed Items and Approaches
In Phase 1, the City received feedback that residents prefer a staged approach to implementing the reduction strategy to adjust to each of the bylaws. The below table shows the timelines for each bylaw.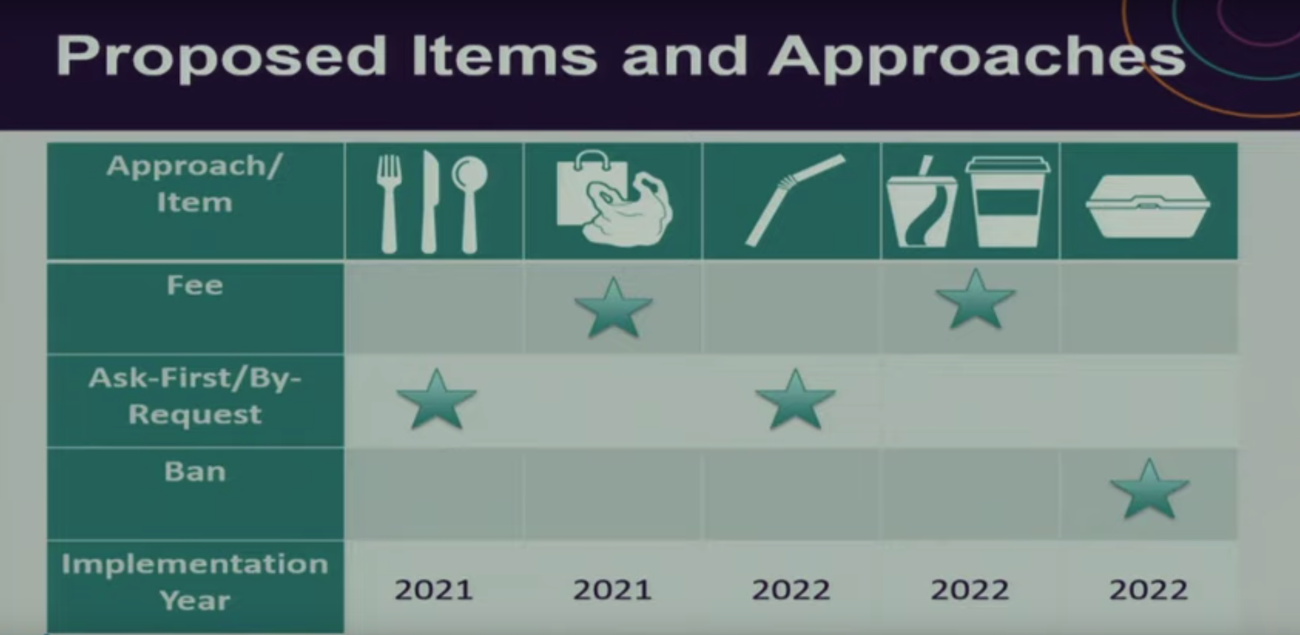 Watch the Video Stream
Have Your Say
The survey for Phase 2 consultation is now open until November 4, 2019.