Government of Canada seeks comment on recycled content in plastic manufactured items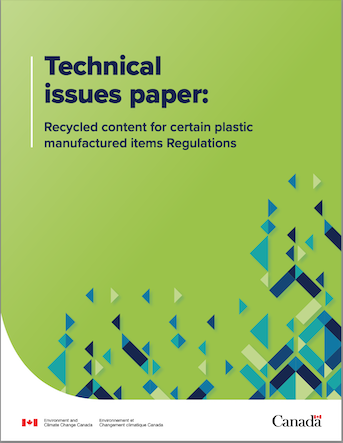 Canadians and stakeholders are invited to comment, before March 14, 2022, on the technical issues paper. This document presents considerations and options for key elements of the development of the proposed regulations. 
Paper Highlights
Goal of minimum recycled content requirements would be to strengthen the market demand for recycled plastics. This creates market pressures for increased collection, sorting, and recycling of plastic waste; and create incentives for investments in supportive infrastructure and in innovation, such as in improved product design for recycling.
Government of Canada will require plastic packaging in Canada to contain at least 50% recycled content by 2030. This objective is supported by the Canadian Council of Ministers of the Environment, which endorsed a 50% recycled content requirement in plastic products, where applicable, by 2030 as part of Phase 1 of the Canada-wide Action Plan on Zero Plastic Waste
Regulations would require applicable plastic manufactured items to contain minimum prescribed amounts of recycled content. Regulations could apply to any person or business that manufactures, imports, or sells the items in Canada.
Regulations would not replace other existing or future requirements, which would continue to apply to certain types of plastics, plastic products, and packaging.
Government of Canada intends to establish recycled content requirements on the basis of product application (e.g., beverages) and format (e.g., rigid containers).
Target packaging in the initial version of the proposed Regulations: bottles, rigid, flexible, and foam containers, film (e.g., shrink wrap), and others. Durable items like waste bins are being considered for the proposed recycled content requirements
Excluding primary (direct contact) food packaging from Regulations at this time, with the exception of beverage containers, with an intention to develop instruments and approaches that will increase recycled content in these application that could include future regulation.
Options under consideration for defining recycled content for the purposes of the Regulations include:
Post-consumer recycled content only (e.g., pre-consumer content would not be permitted to meet requirements).
Post-consumer and pre-consumer recycled content (e.g., either category would be permitted to meet requirements).
Post-consumer and pre-consumer recycled content with a maximum limit to the amount of pre-consumer content that would be permitted to meet requirements.
Considering options for allowing outputs from chemical recycling technologies to meet the recycled content requirements in the proposed Regulations, and seeking feedback and evidence to support whether certain technologies should be within scope or not.
Requirement for measurement and reporting of recycled content in plastic packaging, including annual reporting requirements.
Setting minimum requirements for verification of reported recycled content that may be met through certification by accredited standards development organizations or other third parties.
The proposed regulations are intended to be published as early as the end of 2022.
Consultation Questions
Should any product categories be added to or removed from the proposed scope? Please provide rationale.
What actions could government take to facilitate an increase in recycled content for primary food packaging?
Are there other product applications for which the use of recycled content is not feasible or permissible due to legal or other requirements or potential risks for human health or the environment?
Should special consideration be given to certain types of reusable plastic packaging? Please provide rationale.
Should certified compostable plastics be exempted from the Regulations, in certain applications, or circumstances? Please provide rationale.
Which option for biobased "drop in" resins, or any alternative option, should be adopted in the Regulations, and why? Should consideration be made to allowing only certain types of feedstocks (sources of biobased resin) for exemptions?
Which option for defining sources of recycled content based on pre-consumer or post-consumer recycled resin, or any alternative option, should be adopted in the Regulations, and why?
Are there any environmental or technical reasons to consider excluding any particular methods of recycling plastic? Please provide evidence, where possible.
Do you agree in principle with allowing the use of a mass balance method for measurement and reporting of recycled content? If not, please explain why.
Should additional chain of custody methods be allowed? Please provide rationale.
Do you agree with the proposal to require annual reporting of recycled content use by product category? If not, what alternative reporting system would you propose to verify compliance with the requirements? Please provide rationale.
If you are a business that may be subject to the Regulations, would you expect to encounter any challenges with implementing any of the chain-of-custody methods of measurement (for example administrative impacts)? Please elaborate.
What evidence requirements, at minimum, would be needed to ensure compliance with minimum recycled requirements?
If you are an importer of plastic products, what must be considered to obtain the required evidence for recycled content verification from overseas manufacturers? What other ways could importers demonstrate compliance?
Comment 
Interested Canadians are invited to provide written comments on this discussion document during the comment period, which will end on March 14, 2022.
 
Please send your comments to [email protected]