Plastic Bans
International
See the complicated landscape of plastic bans in the U.S.
A new map created by National Geographic shows where states in the US have banned plastic—and where states have banned bans on plastic.
---
Bans on Plastic, and Bans on Bans
Jurisdictions across the United States have instituted bans and fees on various types of plastics, like bags, carryout containers, polystyrene (Styrofoam), and straws. States have also enacted restrictions preventing future plastic bans. Nation-wide, there is currently a ban on the use of microbeads.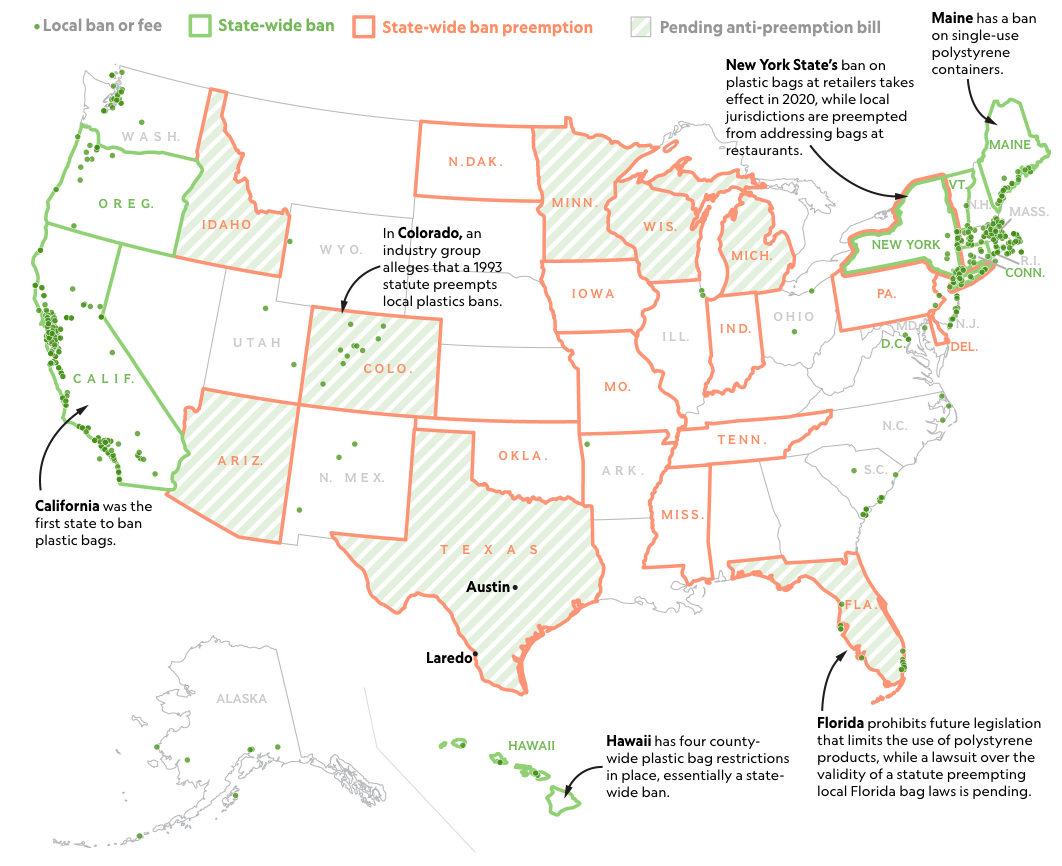 California, New York, and hundreds of municipalities in the U.S. ban or fine the use of plastic in some way. Seventeen other states, however, say it's illegal to ban plastic items, effectively placing a ban on a ban. This kind of legal maneuvering is booming. Four states created preemptions this year alone with two only narrowly failing in South Carolina and Alabama.
Often, efforts to preempt plastic bans are aided by the plastics industry, which wants to ensure its products remain widely used.
"First and foremost, we represent the manufacturers of plastic retail bags," says Matt Seaholm, executive director of the American Progressive Bag Alliance, a group affiliated with the plastics industry. "We engage at a local level to provide information to local officials on the merits of any type of an ordinance that is being proposed."
Seaholm said the industry is also looking out for local retailers. He adds plastic bans drive up costs, impose confusing regulations, and put in the hands of the government a decision that should be made by consumers and business owners.
Often partnering with local retail and restaurant associations, the industry is at odds with environmental groups that say single-use plastic must be urgently addressed.
"The plastic industry is putting a lot of their money on preemption, and they're winning," says Jennie Romer, an attorney at the Surfrider Foundation, a group that advocates for pro-environment policies.
Eight additional states are considering preemption measures in the coming years that could make it illegal to ban single-use plastics.
How bans work
When the small border town of Laredo, Texas tried to pass a bill that banned plastic bags in 2008, they wanted to cut down on the costs associated with cleaning the commonly littered item out of waterways and public spaces.
With lobbying help from the American Chemistry Council, the bill was killed, according to an investigation by the Houston Chronicle.
In 2014, the bill was reintroduced and passed by the city. Even the state's multibillion-dollar cotton and cattle ranching industries supported the ban, saying the stray plastic tumbleweeds clogged machines and cows' stomachs. Four years later, the Texas Supreme Court ruled that the ban was illegal, saying it violated a 1993 law that prevented cities or counties from banning a container or package. With it, the ruling brought down 11 other local Texas bag bans.
"It was pretty disappointing," says Jason McCombs from Austin's waste management authority. "We lost a pretty important environmental tool to help protect our environment here."
In Colorado, it was also a 1993 statute that pro-plastic lawyers used to argue against city bans.
For most states, however, no decades-old law was on the books to prevent a plastic ban. Some of the fastest legislative action in states like Pennsylvania, Arizona, and Missouri have rapidly developed after city plastic ordinances were adopted. These state bills all cite the need to create uniform laws throughout their states, a major point made by Seaholm.
"If you think about a retailer with stores in multiple jurisdictions, it becomes cumbersome to adhere to different processes," he says. "You end up with a patchwork."
When asked why the plastic industry tries to change state legislation instead of opposing city ordinances, Seaholm says it's to ensure this uniformity.
Read the full resource at nationalgeographic.com