Strategy and Policy
Reuse
Sustainable Consumption
International
Story 3: Reuse Symposium & Policy Dialogue: Highlights Report
As part of the European Union's (EU) "Reducing Plastic Waste in Canada" project, the EU is collaborating with leading organisations in Canada to create networking opportunities to reduce plastic waste and promote sustainable consumption.  On November 30 and December 1, 2022, the project team together with the Government of Canada, co-hosted a multi-stakeholder Symposium on Reuse and a Policy Dialogue workshop in Toronto, Ontario, Canada.
The Reducing Plastic Waste in Canada project focuses on collaborations to accelerate the transition to more sustainable consumption with key leading organisations in support of Canada's National Strategy and Action Plan on Zero Plastic Waste. On November 30, 2022 the project team, together with Environment and Climate Change Canada (ECCC), co-hosted a multi-stakeholder Symposium on Reuse followed by a Policy Dialogue workshop on December 1.  The focus of this event was to deepen stakeholders and governments' knowledge of reuse practices in Canada and abroad and discuss solutions to expand and accelerate their implementation. The event included over twenty presenters with over 120 participants in Toronto, Ontario and an additional 135 livestream participants. It was followed by a half-day workshop to further the discussions and recommendation actions for the future. This policy dialogue brought together thirty-five representatives from various sectors and regions involved in reuse, including small and medium sized enterprises, larger retailers, advocacy organizations and both federal and local government representatives.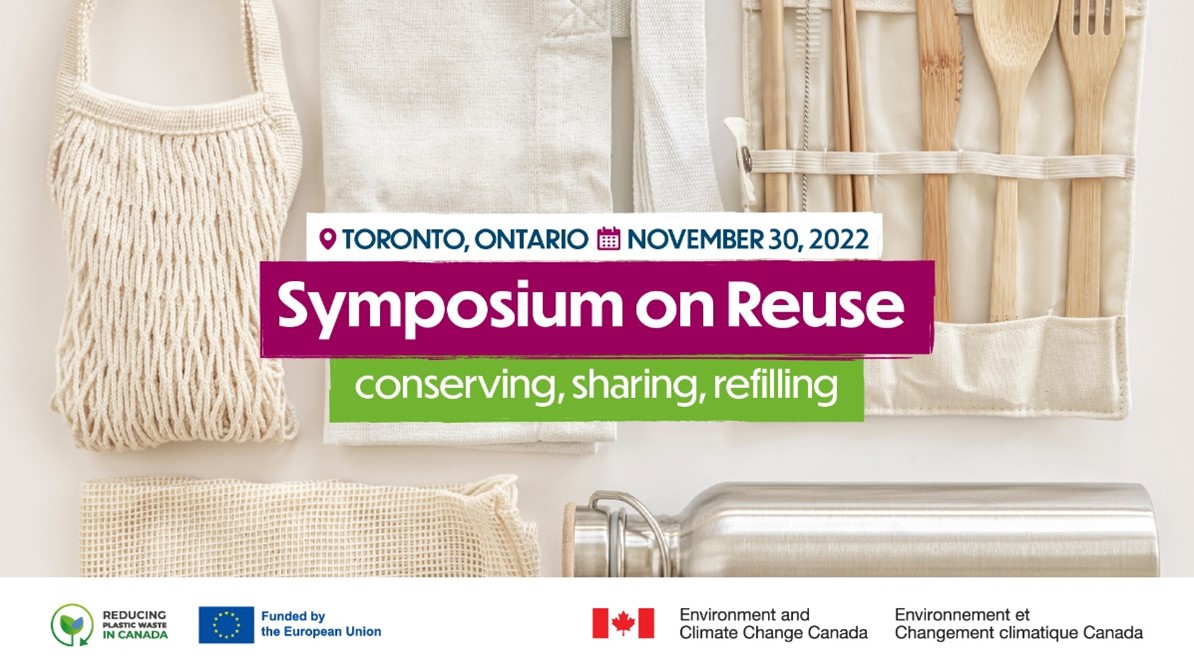 Participants shared their unique experience and challenges as reuse businesses, heard of emerging ambitious policies and programs in different jurisdictions and of opportunities and needs for cross-sector and value chain collaborations. There is significant leadership across various sectors in Canada, Europe and the United States that can help grow the current momentum in new reuse approaches.
The event was planned through a multi-stakeholder steering committee that included: ECCC, Canada Plastics Pact, Circular Innovation Council, Recycling Council of Alberta, City of Toronto, Environmental Defence, and Equiterre and collaboration with PAC Global and the Canada Plastic Pact.
The project team has produced a report that summarizes what we heard at the Symposium as well as recommendations from the Policy Dialogue.  It presents the opportunities identified for reuse businesses and practices, articulates the barriers to advancing reuse initiatives, and identifies solutions to overcome barriers, including next steps for business, government and advocacy organisations, as well as consumers.
URLs / References
What We Heard Report: Symposium on Reuse and Policy Dialogue on Reuse in Canada (EN)
Rapport sur ce que nous avons entendu : symposium sur le réemploi au Canada (FR)
The European Union (EU) project on Reducing Plastic Waste in Canada