Newfoundland has a province-wide Used Beverage Container Recycling Program administered as a deposit-refund system which is managed by Multi-Material Stewardship Board. MMSB also operates a collection network of Green Depots for the recycling of used beverage containers. Retailers are required to collect and remit a deposit from consumers to MMSB on applicable liquor and non-liquor beverage containers. The deposit is partly refunded to consumers for each container returned through the Green Depot network. Curb-side recycling is also offered in some municipalities. 
Diversion Rates (Tonnes) 2016
| | | |
| --- | --- | --- |
| Newfoundland and Labrador | All materials diverted | 39,405 |
|   | White goods | N/A |
|   | Electronics | N/A |
|   | Plastics | N/A |
|   | Tires | 6,266 |
|   | Construction, renovation and demolition | 0 |
|   | Other materials | 700 |
*All other materials than 'Plastics' may or may not have plastics in them.
Diversion Rate Trends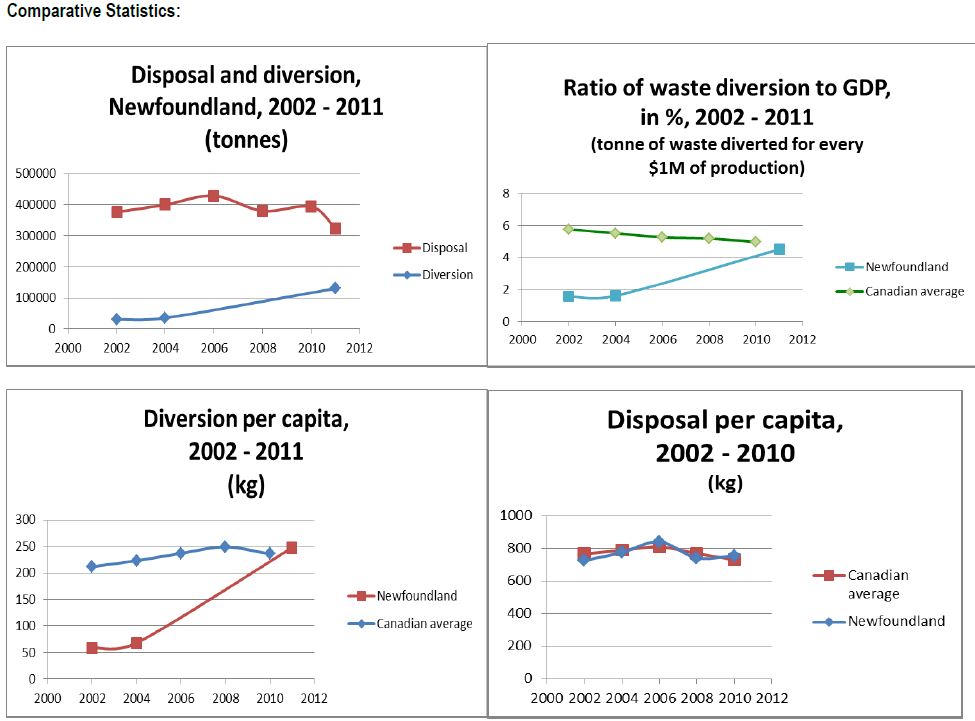 ---
Disposal Options
| | |
| --- | --- |
| Energy Recovery from Waste Approach | No provincial EFW policy, no EFW facilities current or planned. |
| Disposal Approach | Regionalized approach to waste management. No province-wide bans in effect, but announced April 10, 2019 that a province-wide ban of plastic bags will take effect in the next six to twelve months. Number of landfills operating = 88, with 1 LFG recovery. |
---
Plastic Bans & Policies
Newfoundland and Labrador – Province wide
Newfoundland and Labrador has announced it will become the second province to ban plastic bags in Mid-2020.
The towns of Nain, Makkovik, and Postville
As of 2018, the Towns of Nain, Makkovik and Postville all instituted bans on the distribution of grocery bags while grocers on Fogo Island adopted a voluntary ban on plastic shopping bags, and instead provide paper bags to customers.
Pouch Cove
The Newfoundland and Labrador government has said it plans to ban single-use plastic bags by the middle of 2020, but the town of Pouch Cove is getting a head start. As of Jan. 1, 2020, consumers in Pouch Cove will find themselves paying five cents a bag in local stores.
Town of Happy Valley-Goose Bay
In a regular meeting of Council on Tuesday, November 26th, 2019, the 12th Council of Happy Valley-Goose Bay voted unanimously in favour to pass a By-Law banning the use of Single-Use Plastic Shopping Bags in the municipality of Happy Valley-Goose Bay.