The Government of Alberta regulates recycling (or stewardship) programs for beverage containers, tires, paint, electronics, and used oil materials. Municipalities are responsible for the recycling services they offer to residents.
---
Container Recycling Fee
The container recycling fee is the amount beverage manufacturers are required to pay to cover the net cost related to recovering and processing used non-refillable beverage containers, and to ensure Alberta maintains an effective and sustainable recycling system.  See here to read more about Alberta's Container Recycling Fee.  
---
Key laws and regulations in Alberta that affect waste and recycling activities
Acts
Regulations
---
Diversion Rates
| | |
| --- | --- |
| All materials diverted | 831,331 |
| White goods | 9,365 |
| Electronic | 8,197 |
| Plastics | 33,591 |
| Tires | 60,666 |
| Construction, renovation and demolition | 70,116 |
| Other material | 13,744 |
---
Province-Wide Diversion Programs
Voluntary EPR Programs
Cellphones
Pesticides/fertilizers and containers (CleanFARMS)
Plastic Bag Program– voluntary agreement with industry
Legislated Product Stewardship Programs
Packaging – beverage containers
Electronics – computers, accessories and IT equipment, TVs
Automotive – tires; used oil, oil containers and filters
---
Diversion Rate Statistics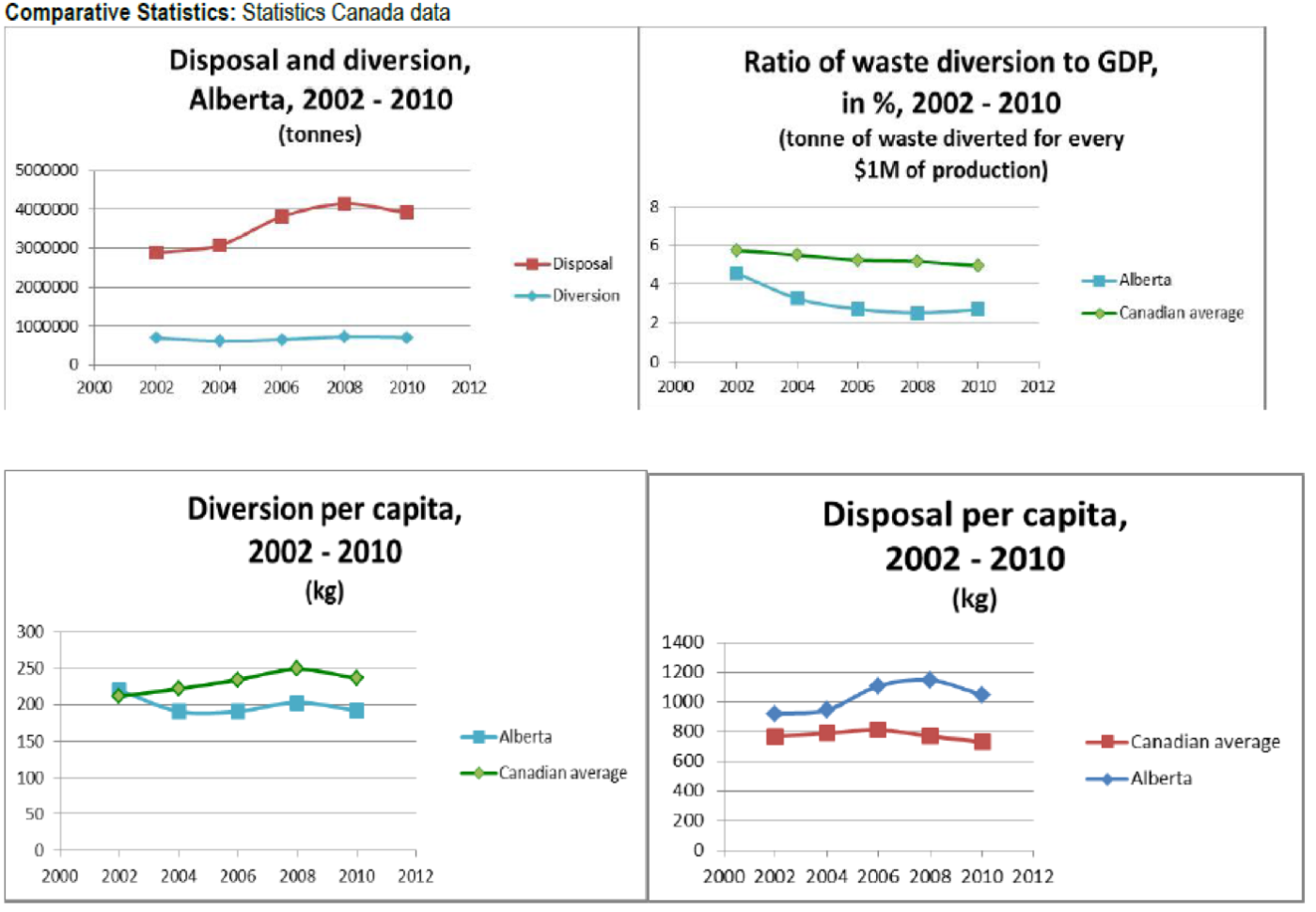 ---
Energy Recovery from Waste Approach
AB is the only jurisdiction in Canada that has a province-wide Code of Practice for Energy Recovery Facilities. In addition, EFW is part of their provincial Energy Strategy. Alberta has 1 large MSW EFW facility, 420 small EFW facilities.
---
Plastic Bans & Regulations
Wetaskiwin, Alta.
Wetaskiwin to ban single-use plastic bagsCouncillors voted unanimously  to ban single-use plastic bags starting next summer. Starting July 9, 2019, grocery stores and other retailers will be prohibited from selling or distributing plastic checkout bags.
Fort McMurray 
Fort McMurray bans single-use bags.  Fort McMurray has become the first municipality in Alberta to ban both plastic and paper shopping bags.
The bylaw bans single-use bags, including biodegradable shopping bags, but allows bags from fast-food restaurants, bags for bulk use like produce and bags from pharmacies and liquor stores.
Town of Devon
Devon, Alberta has officially banned plastic grocery bags, joining a number of other municipalities across Canada.
Plastic-Free Stores 
Re:Plenish
Re:Plenish officially opened its doors Jan. 4, 2020. The store features locally made products, biodegradable personal items like toothbrushes and cotton swabs, and bulk refills of household liquids like shampoo, conditioner and dish soap. Re:Plenish is currently open 10-5 Sat & 12-5 Sun.