Policy
Regulatory Tools
Circular Economy
Plastics Marketplace
International
Implementation of the European Strategy for Plastics in a Circular Economy Leads to Opportunities for Innovation in the Plastics Value Chain
The EU's Plastics Strategy, now well underway with implementation actions, aims to transform the way plastic products are designed, produced, used and recycled in the EU by setting ambitious targets for recovery, reuse, and recycling for each member country.
The European Strategy for Plastics in a Circular Economy (the EU Plastics Strategy) set a target that 10 million tonnes of recycled plastics are used to make products in the EU by 2025 to encourage recycling of plastics that are not being recovered but are being disposed or wasted. This strategy lays the foundations for a new plastics economy, where the design and production of plastics and plastic products fully respect reuse, repair and recycling needs and more sustainable materials are developed and promoted. This will deliver greater added value and prosperity in Europe and boost innovation. The strategy presents key commitments for action at EU level, as well as for the private sector, including all across the plastics value chain from design, manufacturing and production, use, and management at end of life. Commitments were also required by EU member states including national or regional government authorities.  
Key goals of the Plastics Strategy are to:
Improve design and support innovation to make plastics and plastic products easier to recycle;
Expand and improve the separate collection of plastic, to ensure quality inputs to the recycling industry; expand and modernise the EU's sorting and recycling capacity;
Create viable markets for recycled and renewable plastics.
Key actions underway resulting from the Plastics Strategy are to make recycling profitable for business by:
Establishing new rules on packaging to improve the recyclability of plastics and increase the demand for recycled plastic content
Improving the separate collection of plastic waste
Launching an EU-wide pledging campaign
Driving innovation and investment by scaling up support with €100 million to develop smarter and more recyclable plastics materials, to make recycling processes more efficient, and to trace and remove hazardous substances and contaminants from recycled plastics.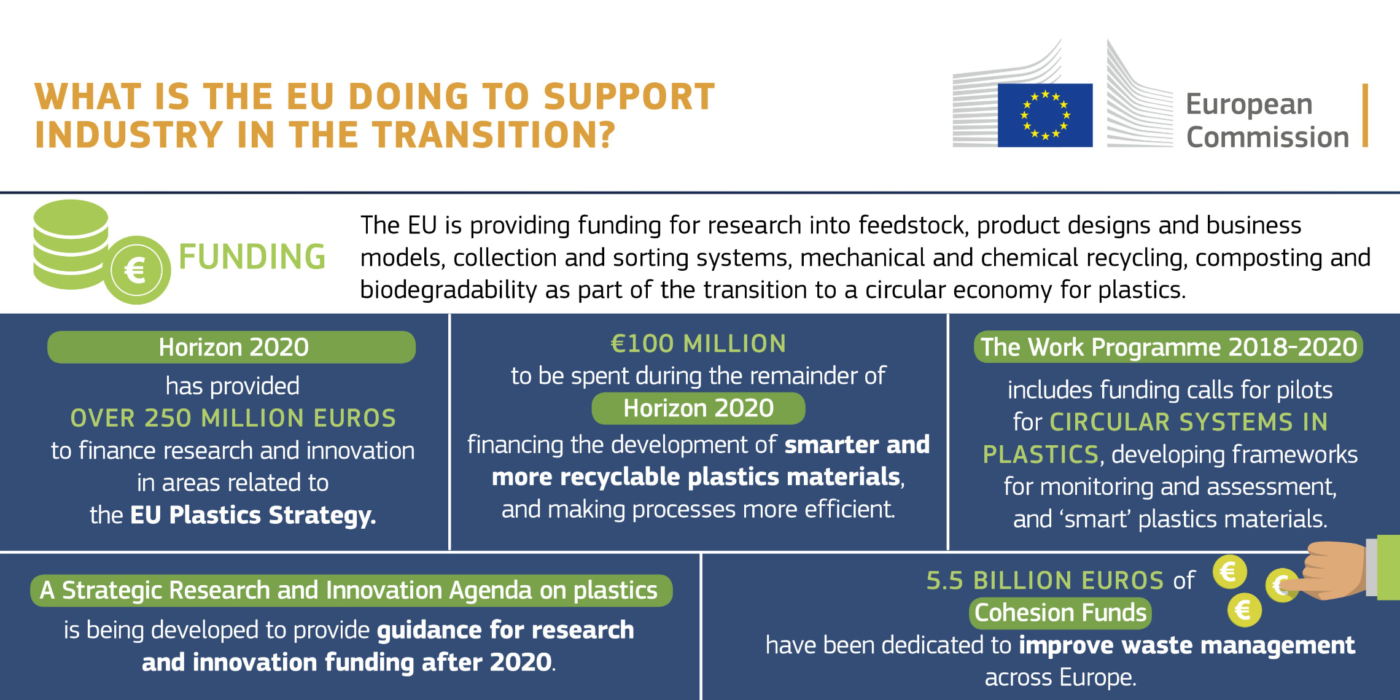 Click here to access a larger version of the above infographic.
Infographic text follows:
What is the EU Doing to Support Industry in the Transition?
Funding
The EU is providing funding for research into feedstock, product designs and business models, collection and sorting systems, mechanical and chemical recycling, composting and biodegradability as part of the transition to a circular economy for plastics.
Horizon 2020 has provided over 250 million Euros to finance research and innovation in areas related to the EU Plastics Strategy.
€100 million to be spent during the remainder of Horizon 2020 financing the development of smarter and more recyclable plastics materials, and making processes more efficient.
The Work Programme 2018-2020 includes funding calls for pilots for Circular Systems in Plastics, developing frameworks for monitoring and assessment, and "smart" plastics materials.
A Strategic Research and Innovation Agenda on plastics is being developed to provide guidance for research and innovation funding after 2020.
5.5 billion Euros of Cohesion Funds has been dedicated to improve waste management across Europe.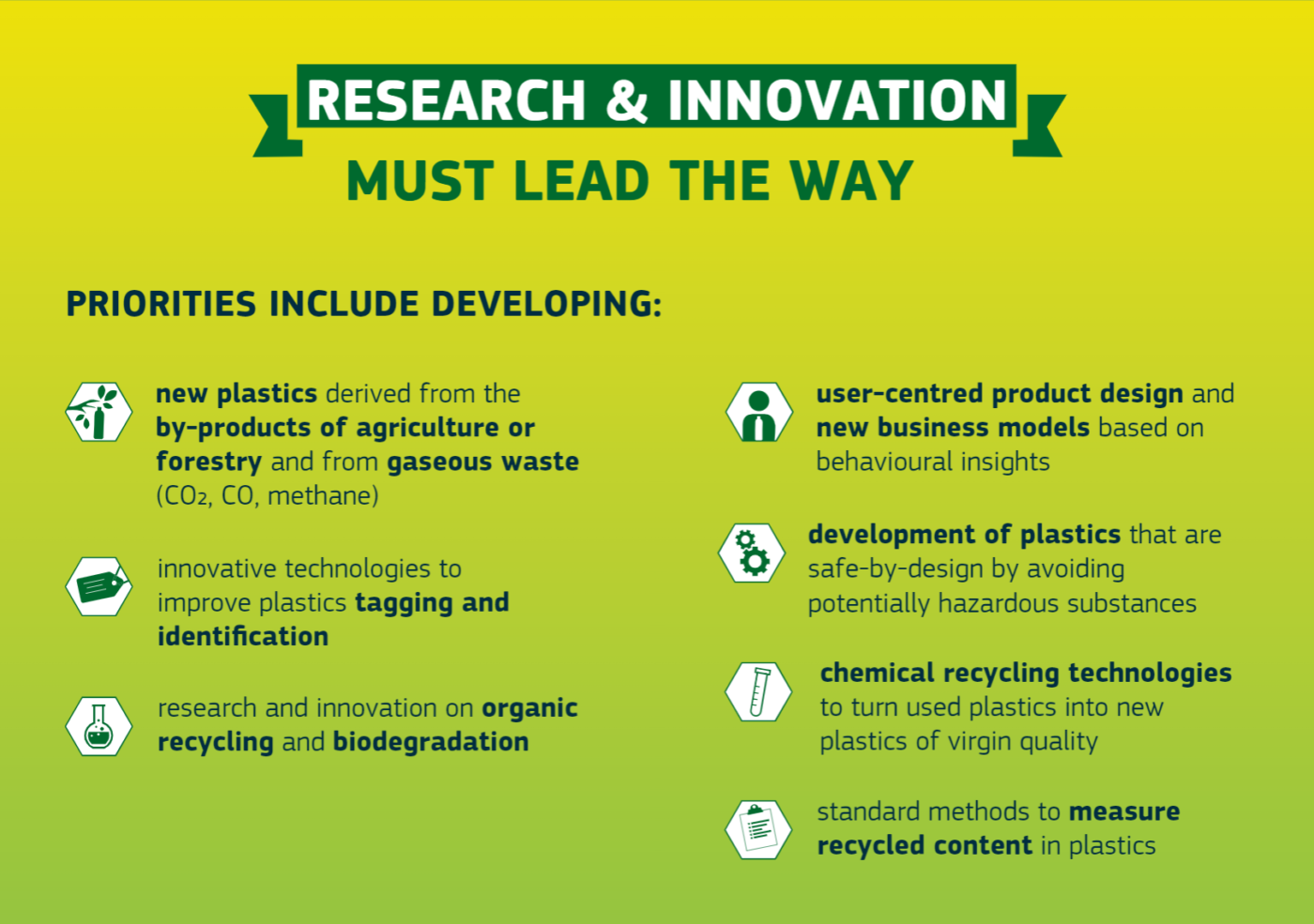 Click here to view a larger version of the above infographic.
Infographic text follows:
Research and Innovation Must Lead the Way
Priorities include developing:
new plastics derived from the by-products of agriculture or forestry and from gaseous waste (CO2, CO, methane)
innovative technologies to improve plastics tagging and identification
research and innovation on organic recycling and biodegradation
user-centred product design and new business models based on behavioural insights
development of plastics that are safe-by-design by avoiding potentially hazardous substances
chemical recycling technologies to turn used plastics into new plastics of virgin quality
standard methods to measure recycled content in plastics
Business Case Example
CIRC-PACK aims to transform plastic packaging waste into a resource. An EU funded research project will develop more sustainable, bio-based and recyclable plastics used for the manufacture of a wide range of products: trays, bottles, coffee capsules, jars, car parts, pallets, and new types of multi-layer and multi-material packaging. CIRC-PACK aims to create smart eco-designs that make sorting easier, with improved recycling technologies that will increase recovery rates and ensure quality. With these innovations, the CIRC-PACK approach can make a real contribution to the circular economy of the future. The project consortium, consisting of 22 partners from the EU and led by Fundación CIRCE of Spain, has developed and tested the three different aspects of the plastics value chain: production, design and recycling with positive results.
URLs
European Commission Plastics Strategy
European Commission, Brochure, Opportunities for Innovation in the Plastics Value Chain