Facts & Stats
Infographics
Plastic Pollution
International
Here's Where the World's Plastic Waste Will End Up, by 2050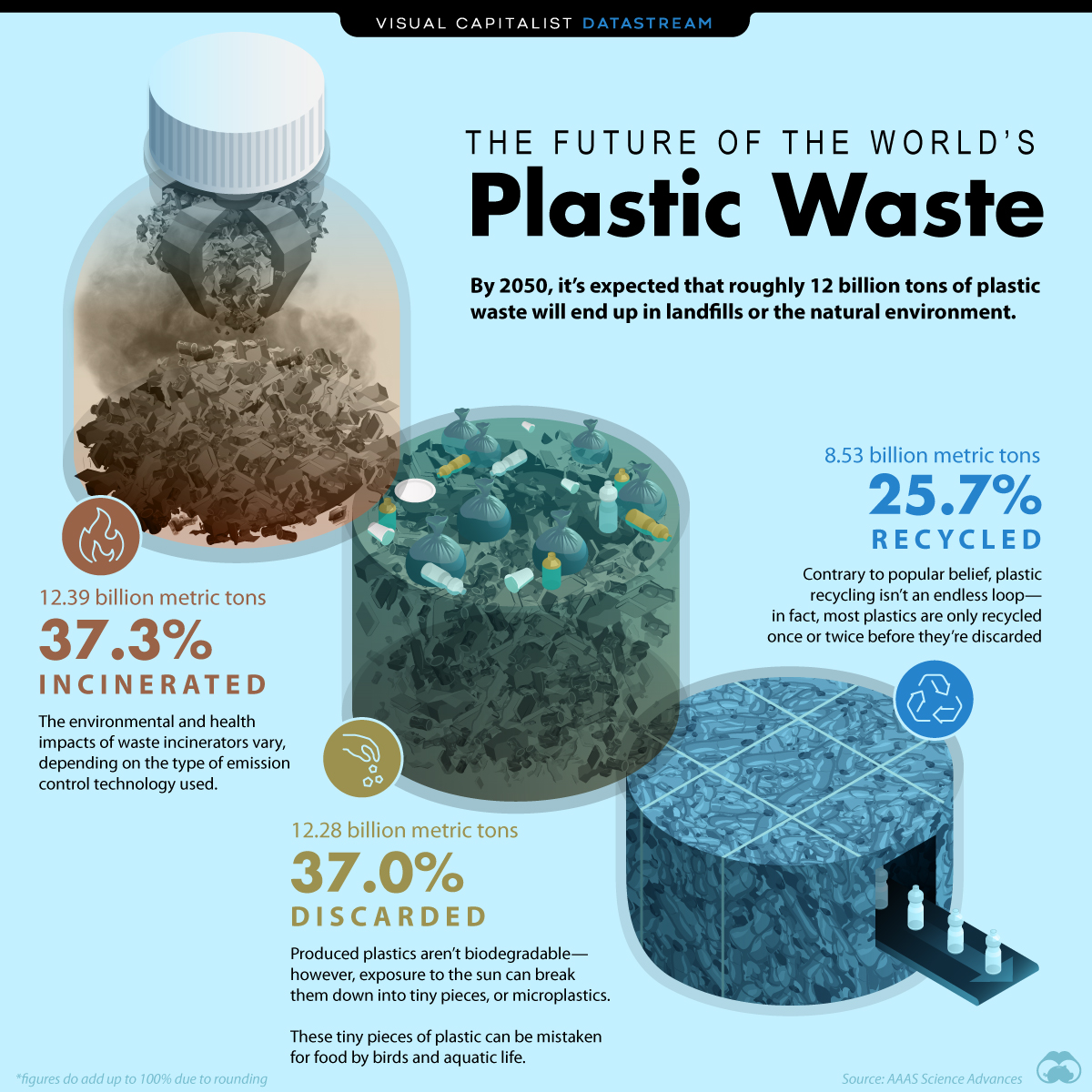 The Future of the World's Plastic Waste
Plastic use has surged worldwide over the last 50 years. In fact, more than 480 billion plastic water bottles were sold across the globe in 2018—that's approximately 1 million per minute.
Where does all this plastic go, and how much of it is being recycled? Here's a look at the end-of-life fate of the world's plastic.
A Breakdown of Disposal Methods
If current trends in plastic production and waste management continue as they are, here's where 33 billion metric tons of plastic waste will end up by 2050.
| | | |
| --- | --- | --- |
| Disposal Method | Metric tons | % of total plastic waste |
| Recycled | 8.53 billion | 25.7% |
| Incinerated | 12.39 billion | 37.3% |
| Discarded | 12.28 billion | 37.0% |
| Total | 33.2 billion |   |
 
To clarify, this is a rough cumulative estimate of all the plastic that's been discarded since 1950. This figure includes both primary and secondary (previously recycled) plastics.
Of the 33.2 billion tons of plastic waste, more than 12 billion metric tons is expected to end up in landfills, or in our natural environment. A large portion of this discarded plastic will find its way into our oceans. In fact, if things remain as they are, plastics are expected to outweigh our ocean's fish population by 2050.
On the flip side, only about 9 billion metric tons are projected to be recycled—roughly 25.7%.
Recycling Has its Limits
It's worth noting that plastic recycling is not an infinite loop.
On the contrary, most plastics can only be recycled once or twice before they're discarded, since polymers in plastic break down during the recycling process.
That's why many experts stress the importance of reducing and reusing over recycling.
As Beth Porter, author of Reduce, Reuse, Reimagine: Sorting Out the Recycling System said in an interview with the Atlantic, "I don't want people to think that what they do as an individual doesn't matter…[but] we won't recycle our way out of this crisis."
For full story and access to visualization visit Visual Capitalist